The ideal solution for Domiciliary Care Agencies
QUIKPLAN UK LEADING HOME CARE SOFTWARE
NEW! in version 8 - Planner View and Grid View
Now you can get your staff rostering done even faster with QuikPlan's new Planner and Grid views. QuikPlan now provides you with even more ways to roster staff and manage your service users care plans. Gain the edge over your competitors by having greater visibility and control of your home care business. Improve efficiency, reduce errors, impress customers and save money.
Click on images to enlarge
Home Care Software UK ~ Domiciliary Care Software UK ~ Easy to use Staff Roster Software > RELIABLE > FAST > POWERFUL > ESTABLISHED Try Our Home Care Software DEMO!
QuikPlan is the award winning UK Homecare & Domiciliary Care, Visit Rostering Software, designed specifically for Home Care & Domiciliary Care UK Agencies. QuikPlan automates Staff Rotas, Timesheets, Invoicing, Pay, Call Monitoring, SMS,Mileage & GPS maps. Tell me more...
QuikPlan home care software can save you 80% admin time on repetitive tasks such as creating rosters, carers timesheets, invoices and pay. At incredible speed, thank's to QuikPlan's cutting edge VMware servers with cloud based technology, QuikPlan processes the most complex compliance rules, offering you the ideal staff to cover an appointment, yet it remains flexible enough to accommodate personalisation for your service users care packages.
The complete domiciliary care software solution (Click to enlarge image)
Manage rotas with ease
Click to enlarge image
QuikPlan Schedule Expert's easy to use interface takes the hard work out of coordinating visits. Simply click on the carer you want to replace and QuikPlan will offer you the best replacement.
Staff availability
Click to enlarge image
QuikPlan selects the most suitable staff to cover a call. You can choose to hide staff that do not meet all the requirements for compliance or show all including booked and unsuitable as above.
QuikPlan Mobile
Click to enlarge image
QuikPlan Mobile links seamlessly in to QuikPlan so you can see your staff check in and out of visits. The status of your visits is updated as they happen, alerting you to late or missed appointments.
Cloud based care at home management system (Information Centre)
QuikPlan is a complete care at home management system that alerts you to missed appointments and important reminders such as CRB check renewals. The QuikPlan Information Centre is displayed at start up and is accessible throughout the program by clicking on its icon. It shows you the status of your system and informs you of tasks that need your attention such as uncovered visits or updates to your prices.
Store all of your vital information in one place and get instant access to it from literally anywhere in the world. QuikPlan is a fully hosted Cloud Based Service that includes superb product support, regular updates & backups, all you need is a standard computer with a broadband connection. QuikPlan is a UK leading software solution, Read our Home Care Software Reviews...


The Software for Domiciliary & Home Care Agencies
QuikCheck Electronic Call Monitoring (ECM)
Our QuikCheck CALL MONITORING care at home system is the perfect addition to your QuikPlan homecare rostering software. Staff make a freephone call from a client's home then QuikCheck checks this against your planned visit schedule. It keeps track of your staff and alerts you in real time to problems. More about QuikCheck Call Monitoring Care at Home System...
Home Care Management System
Route mapping and mileage calculator
QuikPlan Schedule Expert will calculate mileage between each call automatically. It will even print you a map showing the route to be taken along with directions from call to call. Mileage and mapping...
Call monitoring
Call monitoring is required by some UK authorities. QuikCheck call monitoring costs less than half the cost of similar third party systems however QuikPlan can integrate with most of these if required. Call monitoring...
Clients and staff reminders
Client and staff reminders is a very useful feature. You can record your important reminders such as CRB checks and client reviews all in one place. When you log into QuikPlan it reminds you of due tasks. Client & staff reminders...
Notes and history for clients and staff
Notes and history for your clients and staff are stored within their personal details. You can enter information of your clients' needs and record their notes and history. This information is safely stored for fast retrieval when required. Notes & history...
Bespoke Home Care and Domiciliary Care Roster Software
QuikPlan have been developing care at home systems for UK home care and domiciliary care agencies for over a decade. Our software has been designed from the ground up specifically for domiciliary care and home care agencies to assist with scheduling and staff rotas.
QuikPlan has NOT been adapted for domiciliary care or home care from software designed for other industries. This is an important consideration when choosing care at home software - domiciliary systems because home care & domiciliary care is one of the most complex industries to develop care at home software for. Adapted software simply does not work and does not reflect the methodology of a home care or domiciliary care agency. This is why we at QuikPlan have specialised in home care - domiciliary care software.
It is probably the easiest staff roster domiliary system to use and yet has the power to manage the largest domiciliary or home care agency. Why not take a look at our staff roster scheduling software to see how QuikPlan will help you with your domiciliary care agency. Home Care Software
New Offices on the High Street
QuikPlan Limited are proud to announce that we have moved to new offices in Worcester High Street. See Picture...
Minute to Minute Billing
Minute to Minute Billing is highly commended by the CQC. QuikPlan supports real time monitoring and billing. Read more...
Live Appointment Monitoring
Live Appointment Monitoring informs you as to where your carers are and confirms their visit attendance. Read more...
£130,000 Investment in the Cloud
QuikPlan are thrilled to announce a £130,000 investment into a state of the art Cloud Computing Solution Read more...
QuikPlan Mobile... Go paperless, save time and keep your care workers informed with near real time staff rotas and appointment information. Tell me more...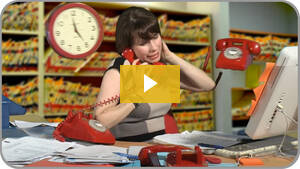 WATCH OUR VIDEO
Try QuikPlan Demo - NOW!
Take a look at our demonstration. In just 20 minutes see how QuikPlan Schedule Expert can accelerate your business.
Try our QuikPlan demo...
10 reasons to choose QuikPlan
• Bespoke domiciliary software solution
• Low cost 30 day (pay as you go) contract
• Award winning support and training
• Automates timesheets, invoicing and pay
• QuikPlan can save you 80% on admin time
• Fully managed service with daily backups
• Securely logon to QuikPlan from anywhere
• Works on virtually every type of computer
• Easily networked to share with colleagues
• No need to buy specialised IT equipment
More reasons to choose QuikPlan...
Works with CM2000 & EziTracker
QuikPlan advanced home care management system works seamlessly with CM2000 and EziTracker call monitoring systems. More...
Quick Set Up
Getting started with QuickPlan
Getting started with QuickPlan normally takes less than 24 hours from when we receive your instructions. Ordering QuikPlan is easy and can be done using our web site on line subscription process.
More about subscribing to QuikPlan...
United Kingdom Home Care Association (UKHCA)
QuikPlan Limited are members of the United Kingdom Home Care Association. We can be found on their web site where we are listed in their consultants and suppliers section.